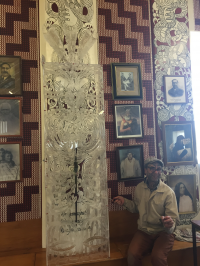 Bottled Ocean - Eau et lumiere - George Nuku
George Nuku is a New Zealand artist and carver of the iwi (tribes) Ngāti Kahungunu and Tūwharetoa, and is of Scottish and German descent. His work is distinct in its use of manmade materials such as perspex and polystyrene. George moved to England in 2005 and was the artist-in-residence for the exhibition 'Power and Taboo', held at the British Museum (Sept 2006 - Jan 2007). He has exhibited extensively in New Zealand with solo and group shows, and in 2008 had his first UK solo exhibition at The Captain Cook's Birthplace Museum in Middlesborough.
George is a highly regarded Maori Artist working also with stone, bone, wood, shell. His works range from delicate jade and pearl amulets, stone sculptures of life size through to two story high Polynesian demi-gods and Maori cultural heroes. He carries the tradition of his people handed down for thousands of years in an artform that promises to expand life and enhance survival. He is well known in New Zealand and his work is highly sought after by the rich and poor alike.
In 2014 George created a Korowai that covers the wharekai roof Ruatapuwahine at Omahu Marae and after five weeks and many sleepless nights, this family's efforts has brought George Nuku's polystyrene cloak for Ruatapuwahine to life for the last few years, George has been involved with some of the most prestigious museums across the world, but he says this project was the biggest most important to date, the masterpiece is more than beautiful, it serves another purpose, containing the sound problems that have plagued the dining hall for decades, without huge expense.
2018 Bottled ocean went up at the Napier MTG and a smaller exhibition on the Awa at the Hastings City Arts Gallerywhich was a great success, working along side hawke's-bay school's throughout a three week period MTG's exhibition Bottled ocean will be ending begining of March so if you havent yet been in to view this exhibition you need to pop on down now.