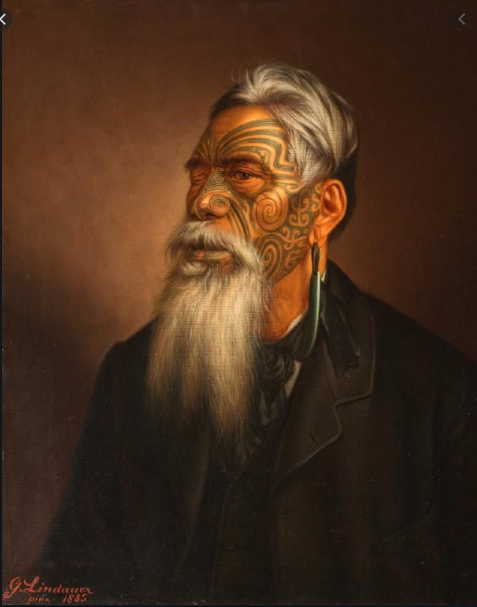 Known in his youth as Tama-ki-Hikurangi, Kawepo was born at Taumata-o-he pa, at the junction of the Mangatahi Stream and the Maraekakaho and Ngaruroro rivers, early in the nineteenth century. His mother, Te Pakapaka, was of high rank; she was the daughter of Te Uamairangi, and the younger sister of Tuhoto-ariki, principal chiefs of Ngati Te Upokoiri, of Heretaunga (Hawke's Bay) and inland Patea, the upper Rangitikei region. Through his father, Tumanokia, Kawepo also belonged to Ngati Hinemanu, and had connections with Ngati Whiti and Ngati Tama of Patea, Ngati Honomokai and Ngati Mahuika. Through his descent from Te Whatu-i-apiti, Taraia I and Whatumamoa, he held great mana over wide areas of Heretaunga and its hinterland.
He received the name Kawepo as a boy when Ngati Raukawa attacked Ngati Te Upokoiri and Ngati Hinemanu in Patea, killing the important chiefs Hoeroa and Te Hianga. It is said that part of Hoeroa's body was carried to Taupo by night; hence the name Kawepo, which means 'carried by night'. As a youth Kawepo was a witness to the long drawn-out struggle between his people and Ngati Kahungunu and Ngati Te Whatu-i-apiti, the major tribes of Heretaunga. Ngati Te Upokoiri and their allies were defeated at the battle of Te Whiti-o-Tu, and took refuge at Taupo. When Tiakitai, the chief of Waimarama and a cousin of Kawepo, passed through Taupo on his way to redeem the Heretaunga leaders taken prisoner by Waikato at the fall of Te Pakake pa about 1824, he invited Ngati Te Upokoiri to return, but most of them feared to do so. Those who joined him included Kawepo and his older sister Mekemeke, later baptised Erena. Mekemeke became the wife of Tiakitai. In 1824 or 1825 a party of Ngati Te Kohera, kin to Ngati Raukawa, came and settled near Te Roto-a-Tara, a lake near Te Aute, under Te Momo-a-Irawaru. Kawepo was among Ngati Te Upokoiri who then occupied the island in Te Roto-a-Tara.
Most of Ngati Te Whatu-i-apiti and some Ngati Kahungunu had retreated to Nukutaurua on the Mahia peninsula to avoid the Waikato invasion. When they heard that Ngati Raukawa and Ngati Te Upokoiri were in occupation of Te Roto-a-Tara, they came to drive them away. Ngati Te Upokoiri and their allies were defeated; Kawepo was put over a fire. Tiakitai sent his brother Tatere to intervene for Kawepo, who was taken off the fire and turned over to Nga Puhi allies of Ngati Te Whatu-i-apiti as their captive.
Nga Puhi took Kawepo to Nukutaurua; he remained with them for more than 10 years. His rank seems to have been respected; he acquired a moko, and gained a reputation as a wrestler. About 1837 he was taken to the Bay of Islands and lived at Waimate North for several years. While there he was converted to Christianity and baptised Renata (Leonard).
In 1842 and 1843 Kawepo is said to have accompanied Bishop G. A. Selwyn on his first visitation tour of New Zealand. When he found Ngati Te Upokoiri living under the protection of Rangitane in Manawatu, he told them they should return to Heretaunga. It may have been on this occasion that Kawepo confronted Mananui Te Heuheu Tukino II, and demanded that lands claimed by Ngati Tuwharetoa in inland Patea should be returned to his people. Kawepo then returned to the Bay of Islands.
In December 1844 Kawepo accompanied the missionary William Colenso to Hawke's Bay in the brig Nimrod. When Colenso's five Maori teachers from Poverty Bay returned home, Kawepo was chosen by Colenso as their replacement in June 1845. For more than four years he carried out the duties of Maori teacher, undertaking arduous journeys to preach at Patea, Tarawera, Tangoio, Te Hawera, Manawatu and the scattered villages of Wairarapa. Kawepo wished to marry Harata Keokeo (referred to by Colenso as Charlotte Tawhi), but she ran off with Alexander Alexander, the European trader at Onepoto. Kawepo married Maora of Ngati Hinemanu; they had a son, who died at the age of six.
In his missionary journeys Kawepo was also successful in persuading many of his people to return to Heretaunga; some settled with him at Pokonao, upriver from the mission station at Waitangi, south of Ahuriri (Napier). During 1849 his relationship with Colenso had deteriorated, as he became impatient with the missionary's dictatorial manner and methods. The final break came in January 1850, when Kawepo threatened to drive Colenso from the North Island.
When Donald McLean arrived late in 1850 to purchase land in Hawke's Bay for the Crown, Kawepo was eager to sell, but later in the 1850s he began to oppose Tareha, Kurupo Te Moananui and above all Te Hapuku, who were selling huge blocks of land. He succeeded in converting Tareha and Te Moananui to his way of thinking, no very difficult task, for they too were angered by Te Hapuku's assumption of authority in the matter of land selling and his tendency to include their lands in his sales. Kawepo's stand resulted in his being regarded as the protector of Hawke's Bay lands from Maraekakaho to the ranges, and across to the borders of Murimotu, in the centre of the North Island. Te Hapuku's attempt to encroach on the bush known as Te Pakiaka was the final straw and war broke out in August 1857 between Te Hapuku's supporters and a Ngati Kahungunu confederation led by Te Moananui and Tareha. Kawepo was one of the war leaders, and was slightly wounded on the first day of fighting. Peace was made in 1858.
When Te Moananui declared his support for the Maori King in 1859, Kawepo was not in agreement, although he declared his support for the runanga system of Maori self-government. Kawepo was held in great respect by most European administrators, and his opinions concerning national events were often quoted. His opinions were based on fact-finding; and his judgements were fair to both sides. His open-mindedness, honesty and intelligence were often praised, but he was no government sycophant. He sympathised deeply with Wiremu Kingi Te Rangitake of Te Ati Awa, and his inclination to support the King movement in the early 1860s sprang from his fear that Maori title to land would not be respected by the governor.
Kawepo was a consistent enemy of Pai Marire activity in Hawke's Bay. To some extent this was a reflection of his opposition to Te Hapuku, who encouraged Hauhau to settle in his pa to strengthen himself against his rivals. In October 1866, when armed Hauhau had occupied Omarunui, seven miles from Napier, Kawepo and Karaitiana Takamoana joined Lieutenant Colonel G. S. Whitmore's advance to drive them out. Kawepo greatly distinguished himself in the ensuing battle.
Kawepo took a prominent part in the campaign against Te Kooti from 1868 to 1870. He was one of the leaders of the Hawke's Bay contingent which went to Poverty Bay when Te Kooti attacked in November 1868. At the engagement with Te Kooti's forces at Makaretu, he narrowly escaped death when heavy fire drove back his men. In June 1869 he was unwilling to take a force to the Taupo area, tired of chasing on short rations through soaking wet bush after an elusive Te Kooti, a course which he had advised against as pointless. However, by September 1869 he and Henare Tomoana had led a strong contingent against Te Kooti in the Tokaanu area.
In October, at the taking of Te Porere pa, Kawepo was clubbed from behind by a young Taupo woman, the widow of Paurini, a chief who had been killed during the attack on the pa. In revenge for her husband's death she gouged out Kawepo's right eye. Kawepo held on to her until help arrived, and would not allow his people to harm her; he considered that she had acted correctly, and later married her. He was eventually awarded a pension of £100 as compensation for his injury and in recognition of his services to the Crown. His part in the military action cost him dearly, and he was forced to sell land to cover the cost of the campaign.
In the 1860s and 1870s Kawepo had leased and sold land, but unlike many of his contemporaries, he did not spend extravagantly, or go into debt. He was bitterly disappointed by the ineffectiveness of the 1873 commission of inquiry into Hawke's Bay land alienation, and joined in the agitation for a new commission with greater powers, to inquire into and settle all land complaints. Initially he had been opposed to the movement to repudiate all land agreements, begun in Hawke's Bay in 1871–72, but in May 1873 he gave the Repudiationists some financial support. However by 1874 he had become estranged from the Repudiation movement. In September and October 1873 Kawepo attended the parliamentary session in Wellington, coming back convinced that all the laws passed were aimed at getting hold of Maori lands, and that the cost of surveys would be deducted from the purchase price.
Renata Kawepo's interests were broad. He was involved in negotiations with Wanganui people over the disputed borders of the Murimotu area. He distributed sheep to his people, providing the base for a new industry. He erected flour mills, contributed to the building of roads and bridges, and collected rents and distributed them fairly. He played an important role in the setting up of the Owhaoko Maori School reserve endowment of 60,000 acres, and gave money and support to the school at Omahu, his principal settlement, established in 1867. He took a close interest in the administration of the Te Aute Trust and the school established there, and demanded that the children be taught academic subjects and do less manual labour. In 1877 his name headed a petition to the government asking for schools to be established so that Maori children might be taught English, to put them on an equal footing with Europeans in the future. He also supported the church financially and established the Church of St John at Omahu.
By 1880, after the deaths of Tareha, Karaitiana and Te Hapuku, Kawepo was considered the senior leader of Hawke's Bay Maori. In 1883 he welcomed Tawhiao, the second Maori King, on his visit to Hawke's Bay and received him with lavish hospitality.
Whakapapa of Renata Tama - ki - Hikurangi Kawepō and Raniera Te Ahiko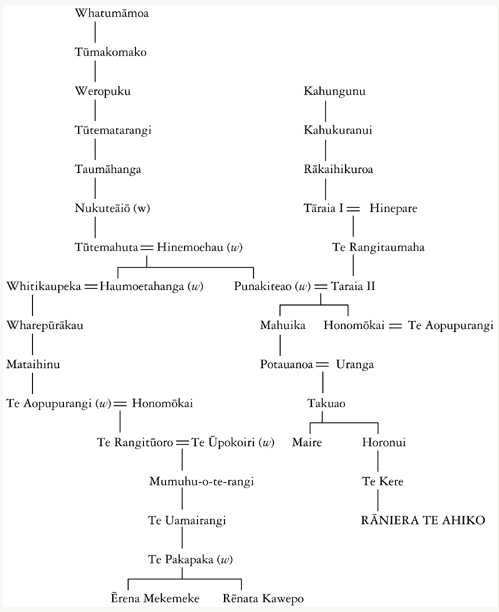 Raniera Te Ahiko gave these lines of this whakapapa (genealogy) during the Mangaohane case in the Native Land Court. It also shows a descent line of Renata Kawepo.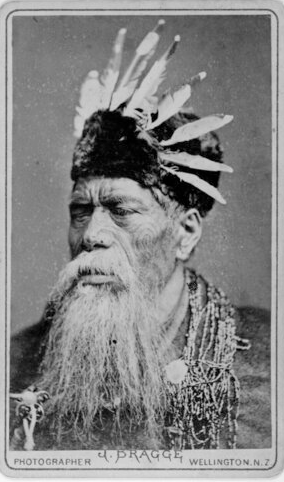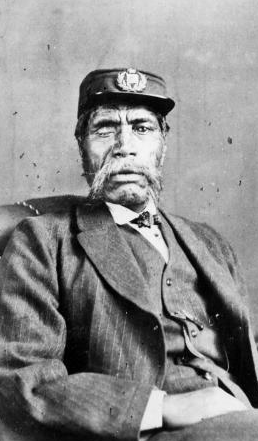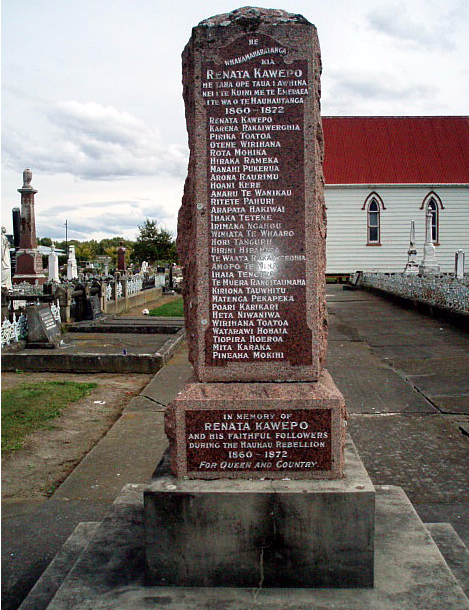 Ōmāhu Marae is located in the small settlement of Ōmāhu, 12 km north-west of Hastings. This memorial stands to one side of the marae, next to the Church of St John's. Erected by the New Zealand government in 1929, it acknowledges the allegiance to the Crown of Rēnata Tama-ki-Hikurangi Kawepō and his followers during the New Zealand Wars.
Kawepō was a leader of Ngāti Te Upokoiri and Ngāti Kahungunu and a missionary. During the New Zealand Wars, he strongly opposed Pai Mārire activity in Hawke's Bay and actively supported the government against Te Kooti Rikirangi of Rongowhakaata.
Kawepō took part in a number of military campaigns. In October 1866, he joined Colonel George Whitmore's action against the Hauhau occupation of Ōmarunui pā, 5 km north-east of Napier. Kawepō greatly distinguished himself in this battle.
Kawepo was one of the leaders of the Hawke's Bay contingent that went to Poverty Bay after Te Kooti attacked the settlement in November 1868. He narrowly escaped death in the subsequent engagement with Te Kooti's forces at Makaretu. Although they were unwilling to pursue Te Kooti on short rations through wet bush in the Taupō area in June 1869, Kawepō and Henare Tōmoana led a contingent against Te Kooti in the Tokaanu area three months later.
During the battle at Te Pōrere in October 1869, Kawepō's right eye was gouged out by a young widow as utu for her husband's death. Kawepō prevented his people from harming her, and the pair later married.
Kawepō was eventually awarded a pension of £100 by the government. It was given as compensation for his injury, and in recognition of his services to the Crown. His contribution to campaigning came at great personal expense; he was forced to sell land to cover costs.
By 1880, Kawepō was considered the senior leader of Hawke's Bay Māori. He died at Ōmāhu on 14 April 1888, aged around 80. Kawepō's tangi was attended by some 6000 people. He received a military funeral and was buried in the cemetery of the Church of St John at Ōmāhu.
Two days after Kawepō's death, Wellington's Evening Post newspaper published Lieutenant-Colonel Thomas McDonnell's tribute to a 'loyal and brave man'. 'It would be a graceful act now', concluded McDonnell, 'to erect a monument to the memory of this brave old chief'. A monument was erected at Ōmāhu the following year.
Nearly 40 years later William Heslop, Secretary of the War Veterans' Branch in Hastings, asked the Department of Internal Affairs to approve a memorial to those who had served with Rēnata Kawepō, 'a trusted ally of Donald McLean'. Heslop asked that the memorial be placed in Ōmāhu cemetery even though not all of Kawepō's followers were buried there.
Heslop's request was given Cabinet approval in March 1928 and an inscription was decided that November. Work then appears to have stalled until July 1929, when H.M. Campbell, the Member of Parliament for Hawkes Bay, stepped in. Hastings stonemasons Tong & Hoar were awarded the contract later that year. On 1 October 1929, 41 years after the death of Rēnata Kawepō, it was reported that work on the memorial was complete.
Inscription
He Whakamaharatanga / kia / Renata Kawepo / me tana ope taua i awhina / nei i te Kuini me te Empaea / i te wa o te Hauhautanga / 1860–1872
Renata Kawepo
Karena Rakaiwerohia
Pirika Toatoa
Otene Wirihana
Rota Mohika
Hiraka Rameka
Manahi Pukerua
Arona Raurimu
Hoani Kere
Anaru Te Wanikau
Ritete Pahuri
Arapata Hakiwai
Ihaka Tetene
Irimana Ngahou
Winiata Te Whaaro
Hori Tanguru
Hirini Hipahipa
Te Waata Rakaiwerohia
Amopo Te Mina
Ihaia Tengira
Te Muera Rangitaumaha
Kiriona Tauwhitu
Matenga Pekapeka
Poari Karikari
Heta Niwaniwa
Wirihana Toatoa
Watarawi Hohaia
Tiopira Hoeroa
Mita Karaka
Pineaha Mokihi
In memory of / Renata Kawepo / and his faithful followers / during the Hauhau Rebellion / 1860–1872 / For Queen and Country
Further information
'Renata Kawepo',Hawke's Bay Herald, 16 April 1888
'The Late Renata Kawepo',Evening Post, 16 April 1888
'The Funeral of Renata Kawepo',Hawke's Bay Herald, 21 April 1888
'Page 3 Advertisements Column 2',Hawke's Bay Herald, 13 April 1889
Angela Ballara and Patrick Parsons, 'Kawepo, Renata Tama-ki-Hikurangi (? – 1888)',Dictionary of New Zealand Biography, updated 22 June 2007
Chris Maclean and Jock Phillips,The sorrow and the pride: New Zealand war memorials, GP Books, Wellington, 1990, pp. 38, 40